"It used to just be us watching the boys, following them all the time, now we got something for ourselves and something to call our own"
Garnduwa recognises the power of all sport in developing community leaders and community leadership. With the rise of AFLW, Aboriginal women across the Kimberley are coming together and forming teams despite limited resources. We want to harness the strength, resilience and motivation of the women in these communities to inform the work Garnduwa carries out in the Kimberley. This pilot project will be implemented through our Active Leaders program, which acknowledges and celebrates the strength and importance of Aboriginal culture and identity.
In the 2019 pilot project, Garnduwa will visit ten remote Kimberley communities and create a space to listen to the real and perceived barriers to sport. Workshops will include a combination of football drills and health and wellbeing education. The central aim of the workshops will be to build relationships and listen to Aboriginal women in community to therefore inform both Garnduwa's community sport and recreation plans and the Active Leaders Program. Garnduwa has the means to provide a culturally safe place to listen to community and represent the Kimberley as leaders capable of creating change. As a community controlled organisation, Garnduwa wants to support a grassroots led dialogue to ensure the voices of Aboriginal women are heard as the development of womens football grows across the Kimberley.
In exchange for our workshops, Garnduwa will collect and share the feedback with communities, local service providers, football support services in the Kimberley and other key stakeholders. The project will inform our official Garnduwa Active Leaders Program by further developing direct engagement with more communities. Football is a conduit for change, an opportunity for growth and the chance for Aboriginal women in the remote Kimberley to make their mark.
Mowanjum
With over 50 participants, Garnduwa's first ever Making Her Mark workshop was a success! Kicking off around 4pm on Tuesday, our Active Leaders Coordinator Layla introduced the team and the concept behind Making Her Mark. Layla was followed by professional WAWFL athlete Katherine Dann, who spoke about her journey growing up in Broome and playing in the West Kimberley Football League, to moving to Darwin and then Perth to play professionally. We were also accompanied by 'Macca', a past WAWFL Swans District premiership Coach who now lives in Broome and spoke about her own journey, and what football means to her. Together they ran some drills to get the girls' heart pumping and conversation flowing. The overwhelming feedback from the Mowanjum Lady Hawks was that they loved the drills, and wanted to keep them as part of their regular training. The Lady Hawks were quick, agile and ready to play footy!
After our initial drills session, we broke up into groups and ran a 'SWOT' (Strengths, Weaknesses, Opportunities & Training) workshop with facilitator Pepita Wilson. Throughout this yarning session, the women really opened up as we spoke about how women's football has impacted the community. It was a great opportunity for Garnduwa to engage young women living remotely in the Active Leaders program, and to encourage an ongoing relationship with Garnduwa. Layla was also on the hunt for talented young women who want to pursue football with our Kimberley Spirit women's program.
After more drills and more yarning, we ate a feed of salads and meat while Jarlyn Spinks from KAMS (Kimberley Aboriginal Medical Services) delivered a workshop on how to prepare our bodies for games and training days, focusing on hydration, and what to eat before and after games. Lessons learnt that can be applied our everyday lives and shared with their families. The women and girls involved thoroughly enjoyed it and asked some great questions. We ended the workshop with Garnduwa's Derby Active Communities Coordinator Fiona Smith delivering a guernsey presentation. Our Jobs and Skills Centre representative also ran a survey with women under the age of 25 to inform local stakeholders and organisations with current data about employment in the Kimberley.
The Making Her Mark team was so inspired by the determination and focus of women in community, and the willingness to share and engage with us. We left with a lot of information and ideas to share with local stakeholders, and we look forward to visiting again.
Looma
First stop on our Looma trip was the Looma RCS Home Economics room, where the team prepared a feed. We would like to thank Principle Guy at LRCS for allowing to use the space and being so hospitable. Around 4pm, the Looma Lady Eagles kick started their training with us and we followed the same format of drills, yarn, drills, yarn, feed.
Our first yarning session was on the oval. The Lady Eagles spoke a lot about the positive impact footy had already had on their community, and for the women in the team. There were stories of people managing their diabetes better, losing necessary weight and feeling much fitter and happier. A lot of women acknowledged a newfound self-confidence and level of control of their health and wellbeing as a result of playing football. Stronger friendships and bonding amongst women in the community are developing and women displaying strong leadership qualities as a result of being a part of a team culture. We were also humbled to hear about the feeling of pride for Looma locals, and how they are inspired to maintain their oval and keep the community clean for home games and visitors.
As the Lady Eagles are an established team in the WKFL, they already had a lot to share about some of the challenges and frustrations they have, including their strengths as a community and as a team and suggestions of how to build relationships with other women participating in the WKFL.
Garnduwa is especially proud of this flagship project and the positive feedback we received from community. We want to thank the whole Making Her Mark team for the incredible effort to get this project up and running. We would also like to thank Jarlyn Spinks from Kimberley Aboriginal Medical Services, Looma Remote Community School, Beno Pindan, Lynley Juboy and Cindy Pindan from Looma. This would not have been possible without support from Fiona in Derby, Steve in Mowanjum for access to the Hall and the motivation of the women from Mowanjum.
East Kimberley
A team of 10 women travelled from Broome to the East Kimberley from July 28 – August 2 to deliver four consecutive Making Her Mark workshops in Wyndham, Warmun, Halls Creek and Yiyili.
This time the team was accompanied by West Coast Eagles star Cassie Davidson to share drills, skills and her story. Cassie is a Noongar woman from Perth and has a background working as a mentor with Indigenous kids. She was a huge asset, and combined with our Kimberley AFLW role model Kat Dann they made a great team.
The most common story we heard was how footy has transformed the way girls and women in community engage with each other, and how it is bringing people together.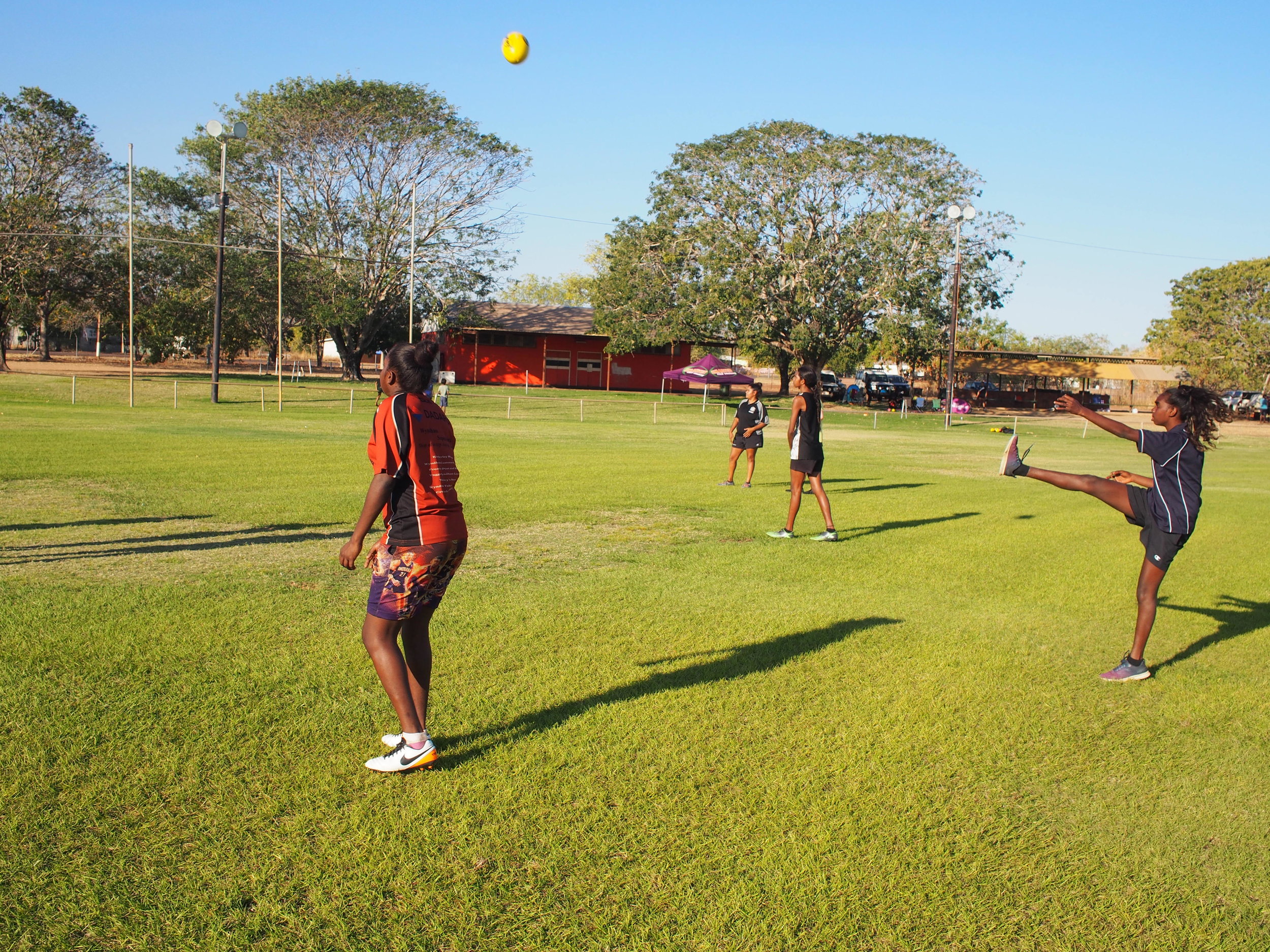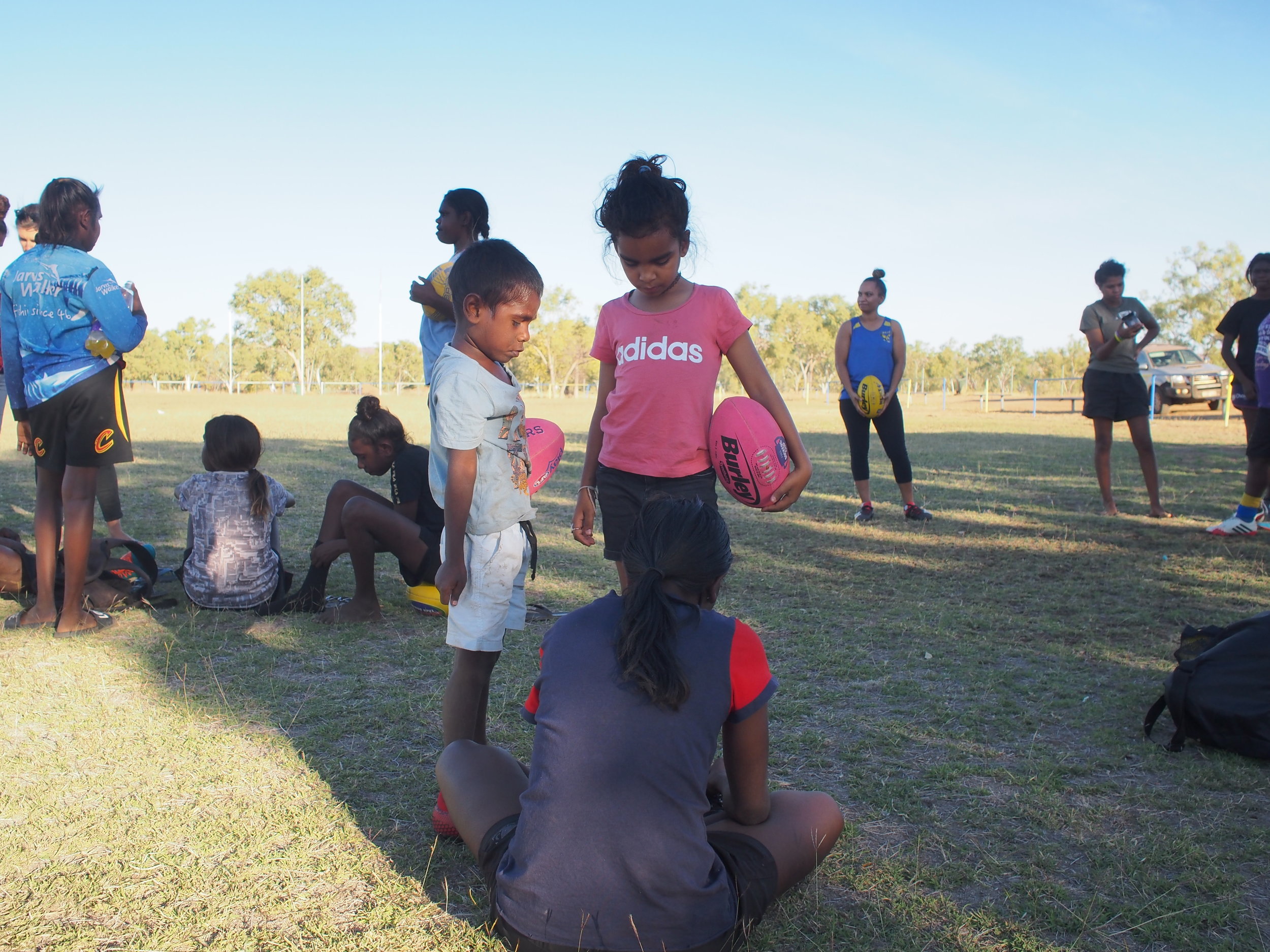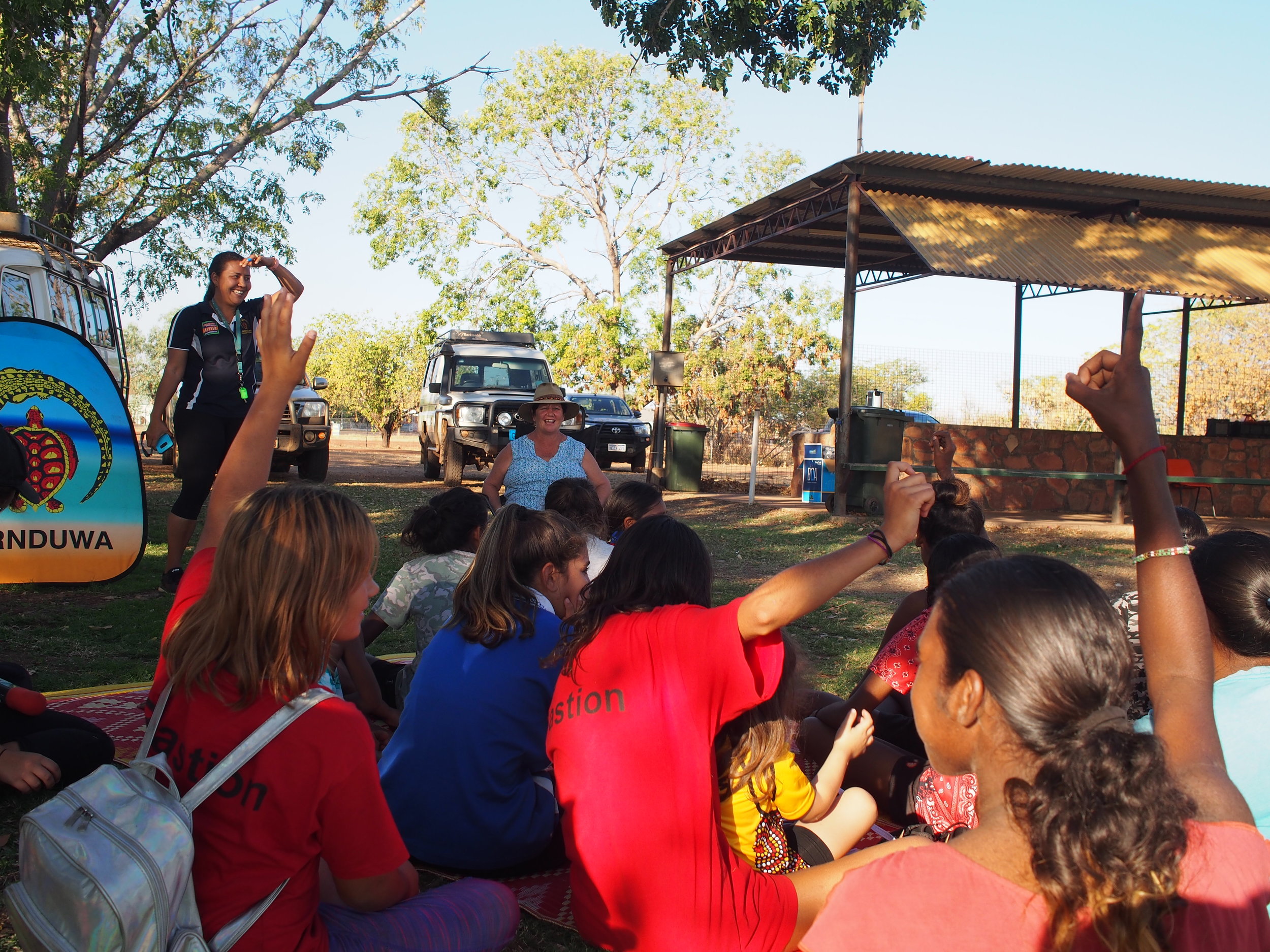 Wyndham
On Monday (July 28) Garnduwa travelled to Wyndham for our first workshop in the East Kimberley. It was a slow and steady start for the girls and women in Wyndham, by 3:30 we had around 20 participants ready to get their blood pumping and learn some new drills.
Layla introduced the program and team, handing the floor over to Kat and Cassie to talk about their journey playing footy professionally. They did a great job creating drills that were appropriate for girls aged between 5 – 40.
After drills, we moved onto our signature yarning sessions with Pepita Wilson, where the women and girls were asked to identify their strengths and weaknesses as a team, personally and as a community. Pep helped to unpack how team dynamics can play out in the community, and how each and every girl involved could be a leader on and off the field.
Jo Warren from Kimberley Mental Health and Drug Services then delivered a health workshop focusing on how to prepare your body for footy.
We want to thank the Wyndham community, specifically Shaye Taylor for encouraging girls and women to join in. Also Mark Timms, Chloe Gerrard, Alu Trust, Danni Woodhouse and Katie Tyson. It wouldn't have been possible without the strong community support so thank you!
Warmun
We had a huge turnout in Warmun as the ladies were gearing up for the EKFL Grand Final. After a full afternoon of skills and drills, the women in Warmun had a huge yarning session with us. We heard some great stories about the positive impact footy is having for women in community and we were pleased to see women who had come through Garnduwa's leadership program participating.
"I'm happy with the workshop we had today, it made me think about hopefully making it for AFLW. I learnt a lot with the food and exercise side of things. The training session was the best part, I just like getting out there and running around" Bianca (24)
Nicole from Kimberley Mental Health & Drug Services delivered for the awesome nutrition workshop, which was followed by a discussion with Cassie and Kat about their pre and post game meal plans. The feedback from participants in Warmun was overwhelmingly positive, with a lot of women saying they learnt a lot about when, how and what to eat and drink when it comes to playing footy.
Thanks to Mella for the big support in community, and to Sue Leonard and Dan Hughes for help on the ground.
Keep up the great work Warmun and congratulations on making the Grand Final in your first ever season!
Halls Creek
On Wednesday, the Making Her Mark team made it to Halls Creek. The session kicked off around 4pm with over 35 participants. We were joined by local women Darrilyn Gordon and Kimberley Pickett who came down to show their support. Atteya Thomas, captain of the Halls Creek Lady Hawks and nurse for Yura Yingi Aboriginal Medical Service was a huge help in encouraging girls to listen and join in the conversation.
Thank you so much to the Halls Creek Lady Hawks and supporting women/girls for coming down last week! We were so impressed with the listening, conversations and leadership qualities of the girls who came down.
A special thanks to Jarlyn from Her Rules Her Game, and Atteya from Yura Yungi for the deadly health workshop (and the gifts!). Siobhann Williams from Shooting Stars had a yarn with the MHM team about her experience growing up in Halls Creek, and her journey back to work as a role model for younger girls. Hearing how footy is impacting the lives of young women in Halls Creek is truly inspiring.
"even speaking to the elders in town, they told me that they think footy is going to help the younger girls and the older girls. All the girls talk about is footy, footy, footy. Now that AFLW is there, at least now these girls have something they can work towards" - Siobhann Williams
Yiyili
Our last stop on our East Kimberley trip was to Yiyili. We were struck by the enthusiasm and commitment of the Gooniyandi Goornboo, especially to give up drinking soft drink in August in a bid to raise money for the club. We would like to thank community elders Margaret and Barbara Cox for coming to oversee the workshops, and a big thank you to Erika for accommodating us. Also to Sandra Cox and Priscilla Gordon.
All of the women involved were happy to yarn with us and share their stories. Yiyili is such a vibrant, happy community and it was evident from all the smiles. After our skills and drills session (and a few photos with AFLW stars Cassie and Kat!) we gathered near the BBQ for a big healthy feed and yarning session. Everyone participated and helped themselves to our hearty salads. There are some amazing women getting the job done when it comes to club development, sponsorship and promoting camaraderie.
Well done to Bernadette who won the raffle for a brand new WAFL gurnsey and footy.
Everyone was so welcoming in Yiyili - it was a beautiful end to an amazing trip for Making Her Mark!
Fitzroy Valley
Last week the Making Her Mark project travelled to the Fitzroy Valley for our third trip for 2019. We visited Noonkanbah and then Fitzroy Crossing where we invited Muludja, Bayulu and Yakanarra to join us.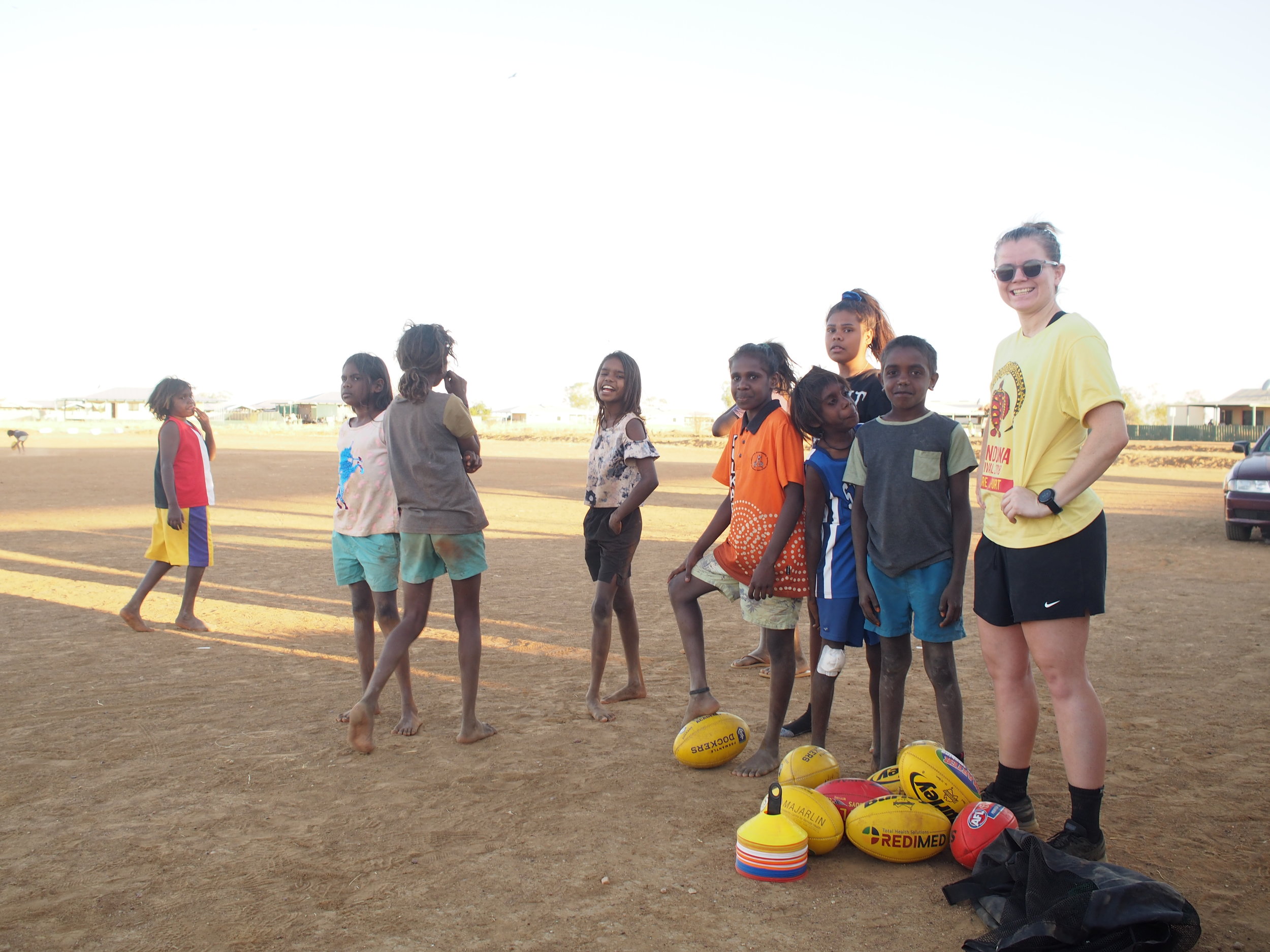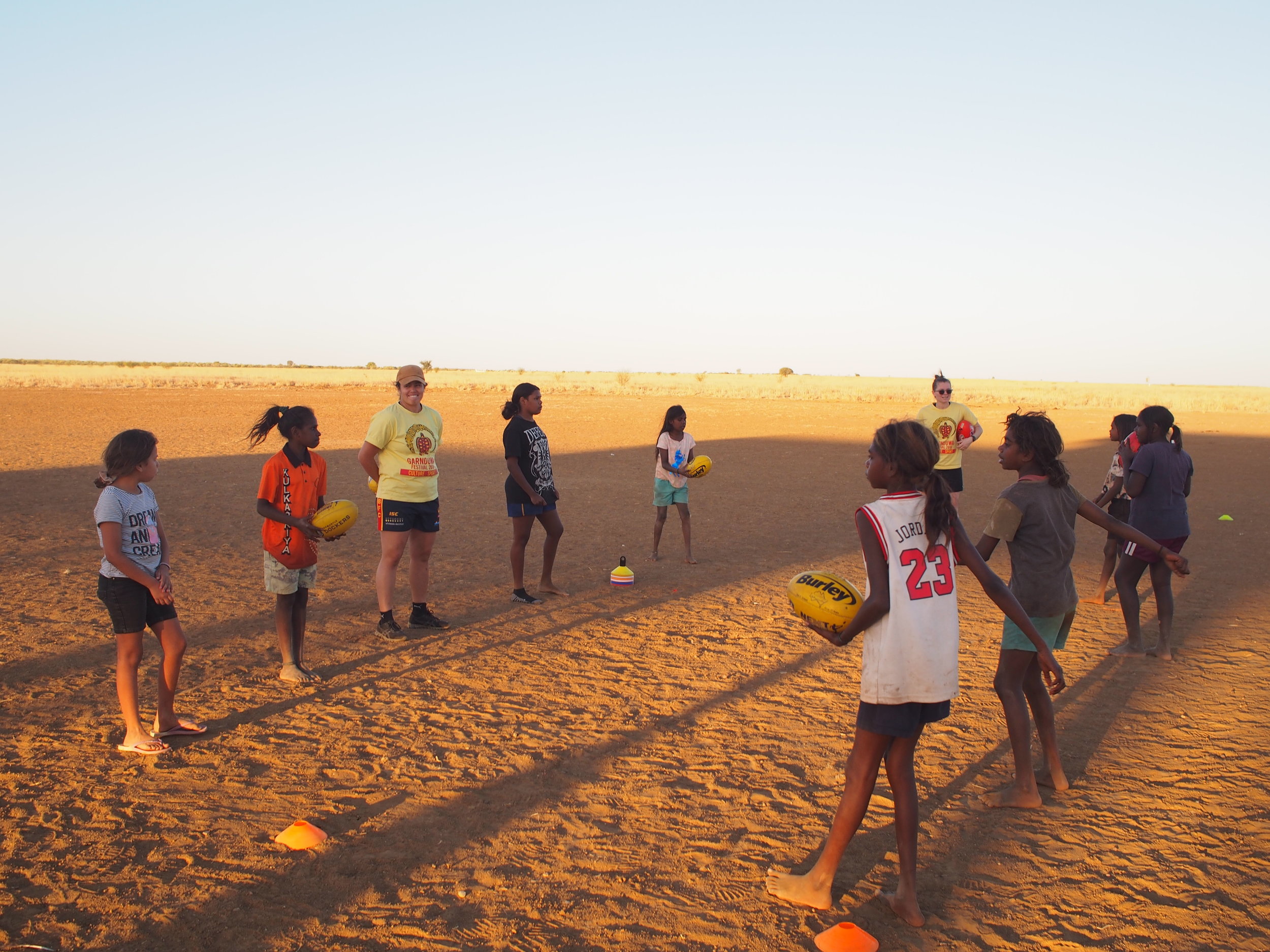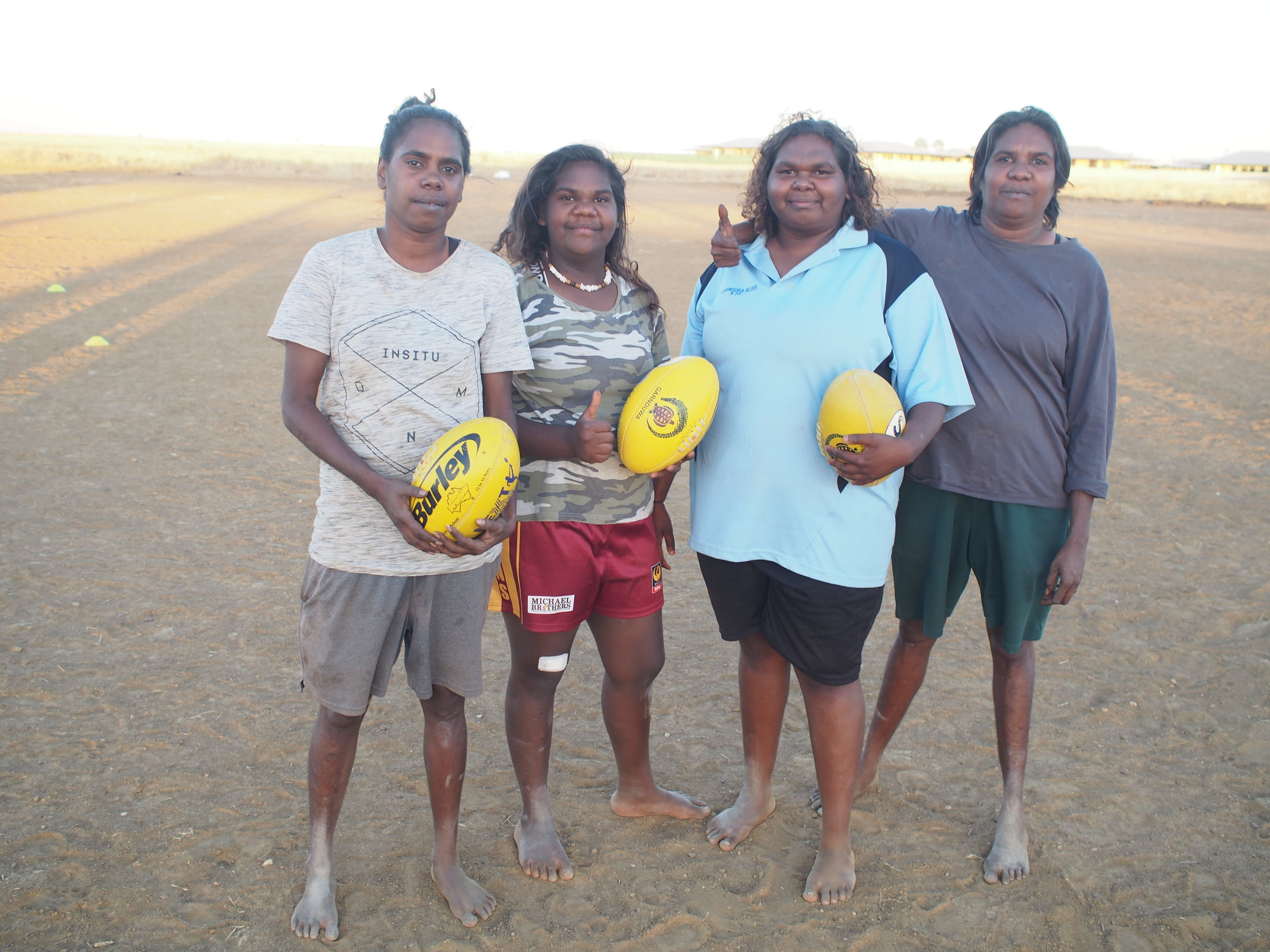 Noonkanbah
Our afternoon workshop in Noonkanbah kicked off around 4:30, with approx 25 participants aged between 14 – 40. We were lucky to have the coach, team manager and captain join us as part of a core group of women from the Yungngora Blues team. Cassie and Kath ran drills for everyone, and then extra drills with the little ones while the women did their first yarning session with Pep.
Captain of the Blues, Carla was headstrong and supportive of her teammates to speak up in our yarning session and was happy to share with us how much they have achieved in such a small time.
Evelyn, the assistant coach told us a story about how for one game, all the girls had to pile up in a truck, drive it to the end of Noonkanbah road (1 hour), park it hidden in the bushes and get lifts the rest of the way to Fitzroy Crossing. Playing footy in community is no easy feat, but these women are getting organised and doing it anyway. It was inspiring to see such a tenacious group of women (and all of their kids!).
The Yungngora Blues are a strong team. They have won two premierships, were the first women's team to request to join the CKFL and this year remain undefeated. This is unsurprising considering the strength of the women's council in Noonkanbah and the clear resilience of all the women in community.
Fitzroy Crossing
Our afternoon in Fitzroy Crossing kicked off around 4pm, with the Muludja Lions and a busload of girls and women from Yakanarra. We were joined by Wangki Radio who came down to interview our Leadership Coordinator and broadcast some of the stories. . As always the drills with Cassie and Kath were a clear highlight. Charlene, the captain of the Muludja Lions encouraged all her girls to participate and was happy to share her perspective on women's football in the Central Kimberley. There are so many vocal women in the Kimberley who take on the responsibility of managing teams, families, work and often supporting roles in men's football all at once.
Garnduwa was running junior footy on the other side of the oval too which meant girls, boys and women all had the opportunity to play footy together in environments where they felt safe and happy, and that is something to celebrate.
Afterwards, Nindilingari ran a healthy eating workshop, then Pep facilitated a yarning session over a healthy feed of pasta salad, chicken and fish from Nindi.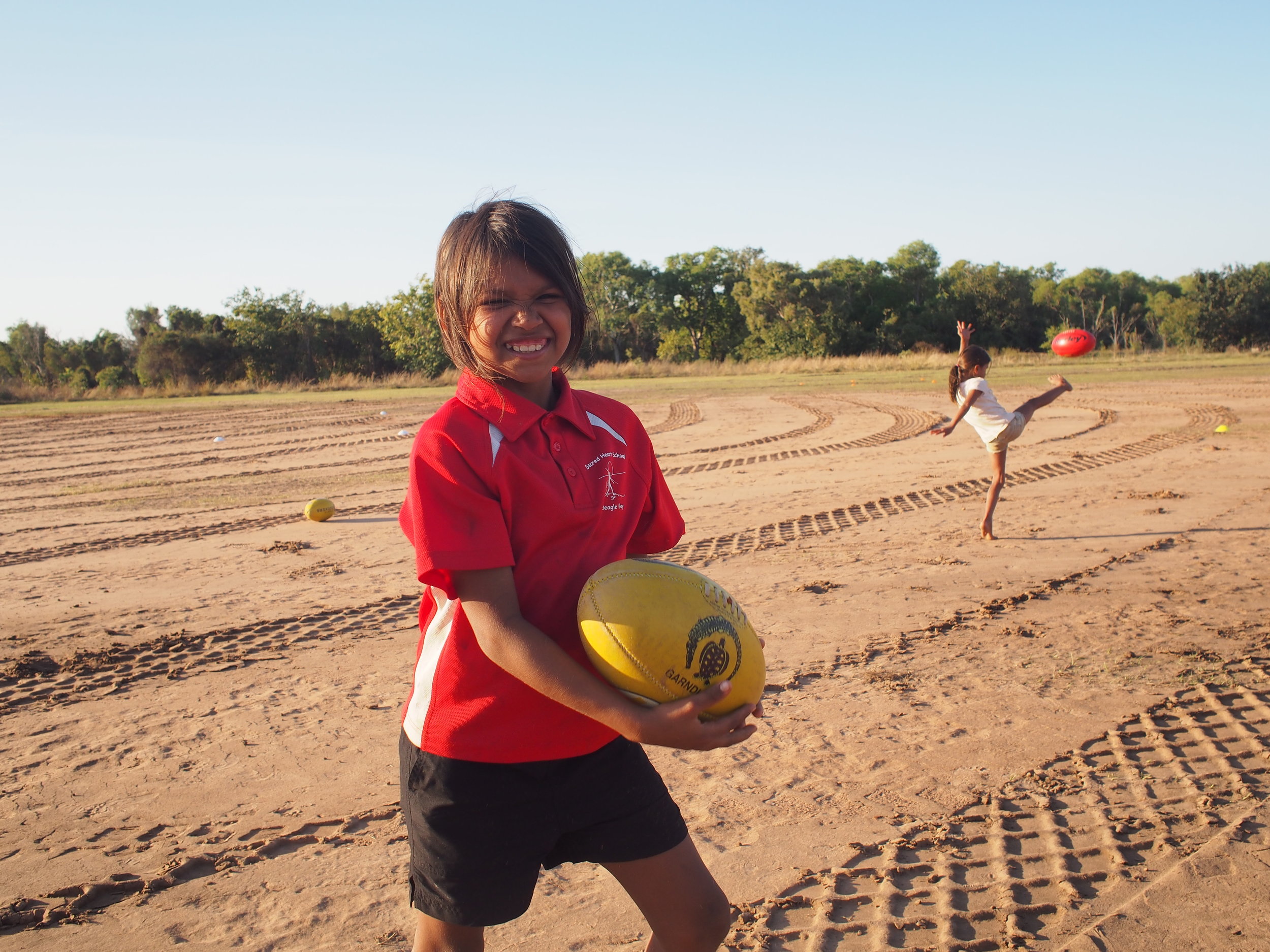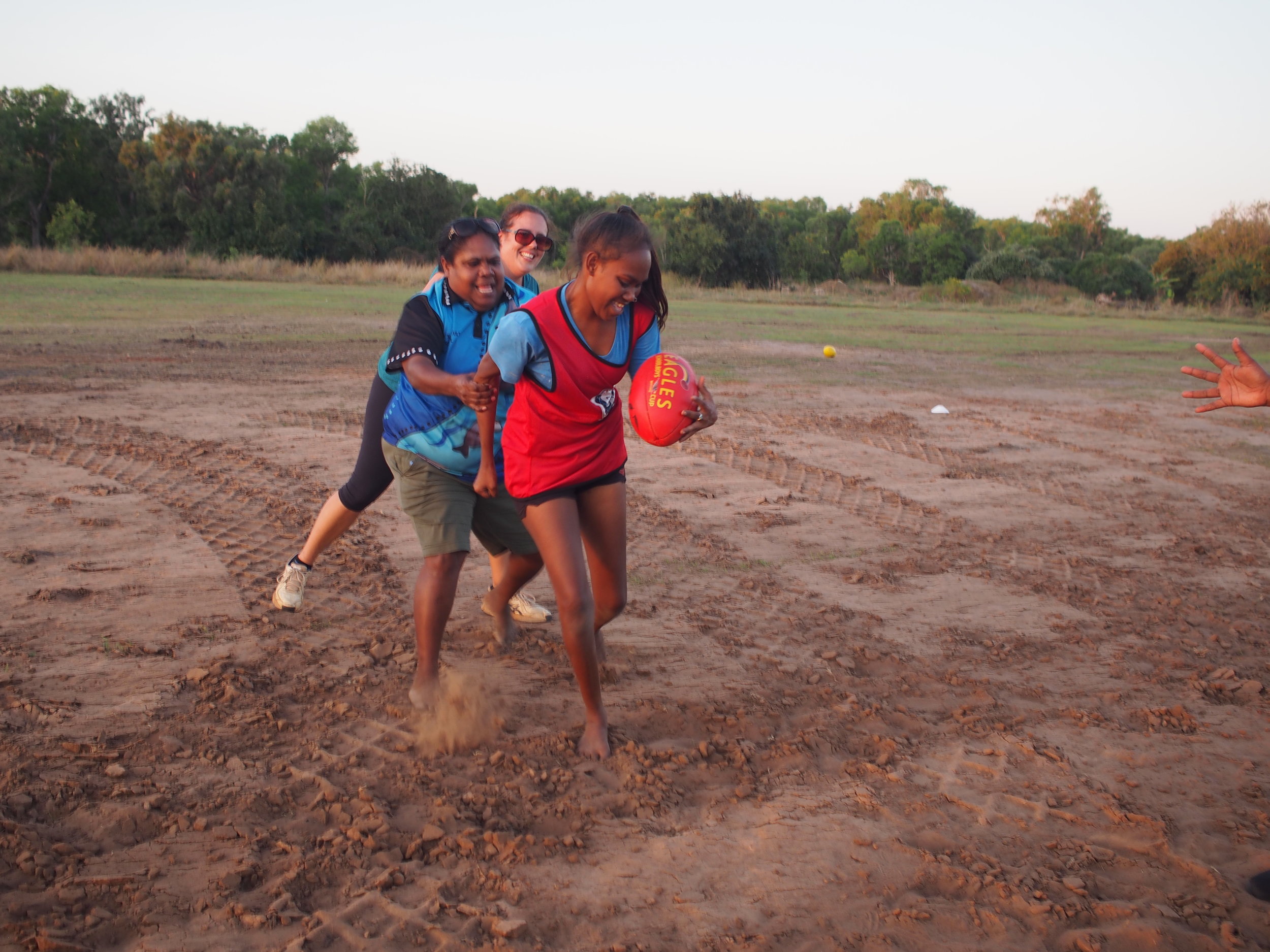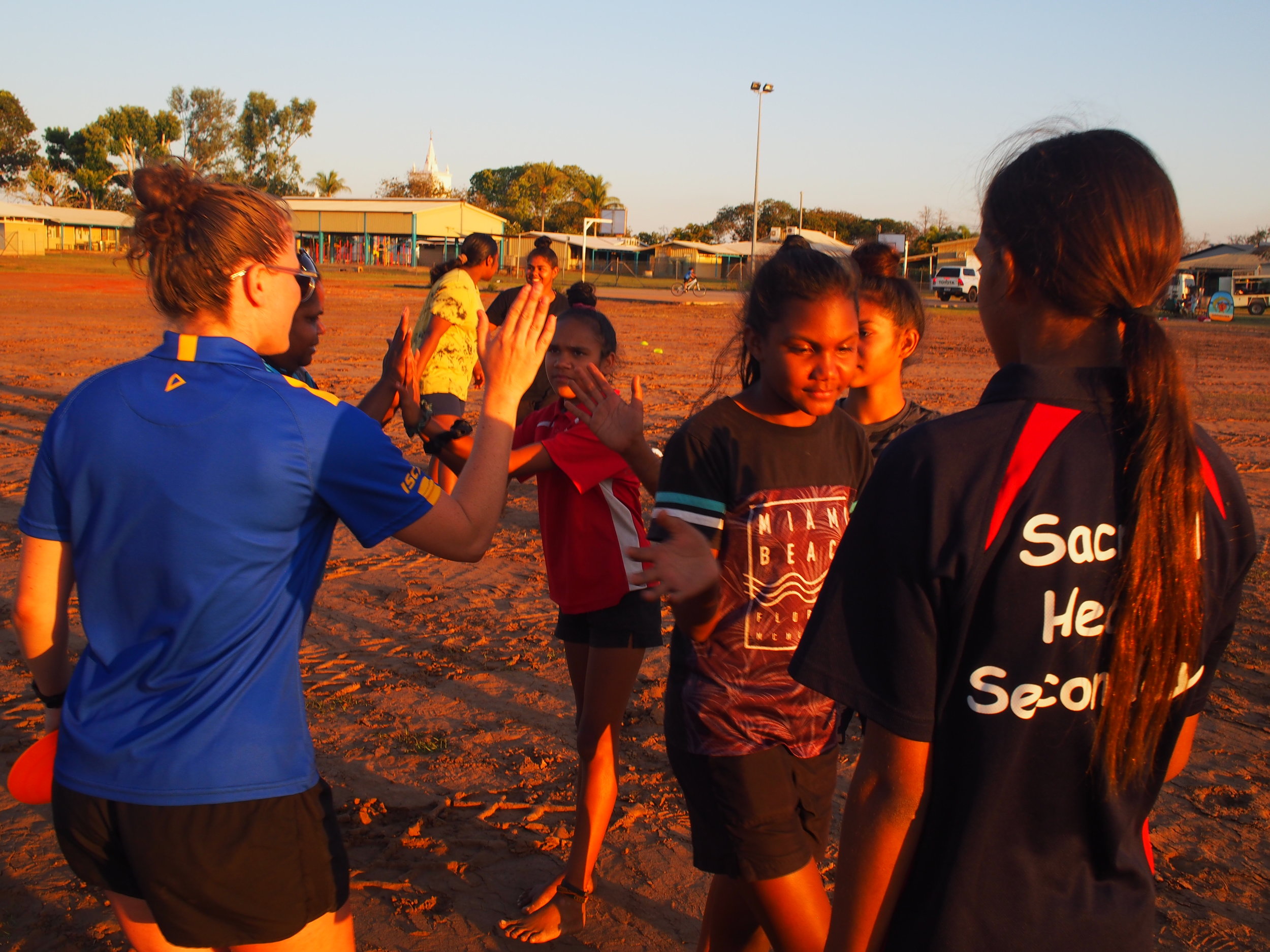 Beagle Bay
On the 27th of August, Making Her Mark travelled up the Dampier Peninsula to Beagle Bay for our second last workshop. Women from across the Peninsula were invited to take part, as well as all women and girls from the Peninsula Bombers team. Marika Councillor travelled from Broome to support us and became an invaluable member of the team with some very insightful feedback.
This workshop was particularly special as Beagle Bay is the home of Pep Wilson, our MHM facilitator. She was able to connect with her Nan, aunties and sisters while supporting women's footy (her passion!).
Bidyadanga
Our trip to Bidyadanga on Wednesday the 28th of August was the last installment of the Making Her Mark pilot project. The Bidyadanga Emus have played in the West Kimberley Football League for the last two seasons, with extraordinary numbers of women keen to participate. Although they didn't make it to finals this year, we still had over 25 women and girls come down and join in with Making Her Mark, showing true sportsmanship and resilience.
Cassie ran a number of new drills for the Lady Emus to use in their preseason training, followed by a yarning session with Pep by the oval. Jarlyn and Tori from Her Rules Her Game supported the whole event and ran their footy and nutrition workshop over a big feed supplied by Kimberley Aboriginal Medical Services. Thank you to the women and girls in Bidyadanga for participating and good luck for 2020!